Cape Cod Landscaping and Maintenance
Since 1995, Whitten Landscaping, Inc. has been Cape Cod's premier landscaping business. We specialize in both residential and commercial landscape design and construction as well as pool design and installation. Whitten Landscaping also offers a variety of maintenance programs ranging from seasonal clean-ups to weekly visits that include everything from mowing and pruning to fertilization and insect control. We pride ourselves on our experienced and professional crews; they'll arrive on time in well-maintained vehicles and they won't leave until everything is perfect. We care about what we do and it shows…beautifully.

Whitten Landscaping is owned and operated by people who call Cape Cod home. We love the Cape, and respect its fragile environment, so we recycle our clippings and use green landscaping products wherever possible. We'll make suggestions on using plants that thrive in our climate and require minimal irrigation and fertilization. We're striving to keep our impact on our natural environment as small as possible and we encourage our customers to take the same approach.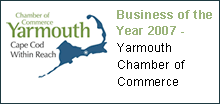 Adding Beachy Touches to Your Cape Cod Landscaping


Even if your Cape Cod home isn't right on the water, the beach is never far. For Cape Codders, the sea and sand are a vital part of the landscape all year long—even when temperatures are nowhere near ideal beach day levels. A fun way to showcase some seaside pride is incorporating beach elements into Read More